What Are Display Cabinets?
What Are Display Cabinets And What Are They Used For?
Display cabinets are also known as display cases, show cases and vitrines. They are a special type of cabinet that often has a glass or plastic covering around the cabinet storage space. The glass and plastic is translucent and thus allows the object to be displayed or seen by observers.
You will find many different styles, sizes and colors of Metro Display cabinets for sale. One of the most popular kinds of display cabinets is the standard wooden ones that may have glass doors that open up into the cabinet space. These are usually arranged in a bookshelf like manner. Another kind of popular display cabinet is the display cabinet case. This kind of cabinet often has a single item or prized items surrounding it.
Display cabinets are often used in museums. Objects are often encased in protective glass or acrylic. This protects the artifact from damage and thievery while still allowing the general public to view it. Display cabinets and cases can also be used in stores where items are displayed. Some storefronts may utilize display cases or cabinets to showcase their latest or hottest selling items to the general public that walks past their stores. The key to understanding a display cabinet is that they both store an object and allow it to be displayed and seen at the same time.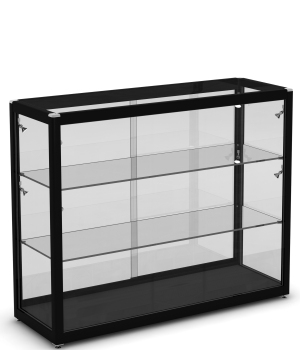 A display cabinet is often used to display china or fine ceramics in homes. It can also be used to display collectible items such as sculpture, various knick knacks and toys. Many people place display cabinets in their living rooms. Being a room where people often gather or spend a significant amount of time in, it is an ideal place to display an item from.
A display cabinet can vary in cost from a hundred dollars and above to well over a thousand. The bigger the cabinet the more it will cost. There are also decorated and handcrafted ones. These will cost significantly more than a standard mass produced cabinet at a wholesale store.